Complaints about sexism in the world of comics are never hard to come by. But Alison Bechdel has been providing a counterpoint to the world of capes and silly costumes since 1983, when she began the newspaper strip Dykes to Watch Out For.
Now she has published an autobiography in the form of a graphic novel. Fun Home charts Bechdel's rural upbringing, her cold family background and her father's suicide. It is also the story of her coming out – while her father stays firmly in the closet. And now it's finally available in the UK.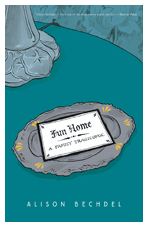 Anyone who's still under the impression that comics are at best throw away entertainments should turn to this book. As The Times puts it:
Fun Home is a profound and important book. Every home should have one.
The Times pairs it review of Fun Home with a review of Audrey Niffenegger's new book. Although I've not read it yet, if The Adventuress is anywhere near as good as Niffenegger's first novel, The Time Traveller's Wife, it will be unmissable.
And if you're still in the market for something to read, you could do much worse than to pick up a copy of Special Topics in Calamity Physics, by Marisha Pessl.
On the other hand, if you are more of a TV-freak, the latest season of the Gilmore Girls has just started in the US on the CW. Although it will undoubtedly be months if not years before it hits the small screen in the UK, what better prompt to rent the DVDs.
This show has a problematic relationship with wealth, privilege and opportunity, but presents the strongest female characters and smartest writing in a TV show since Buffy.