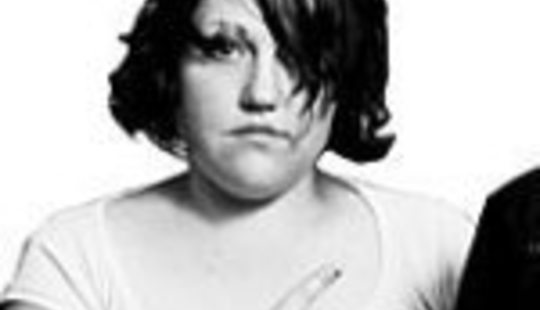 Beth Ditto from The Gossip has been named the coolest person in rock by NME, a Guardian blogger reports.
Beth is a fire-breathing icon of rock'n'roll non-conformity. With a voice like Tina Turner gargling ball bearings, a mega-watt stage presence, a delight in flouting the conventions of dress for 'the larger lady', Beth would stand out anywhere, never mind in the blokey indie world.

Then there's the fact that she grew up a punk and proudly lesbian in the deep south, Arkansas, from a white trash (her words) background where the only way out seemed to be "pregnancy or crystal meth addiction". She has expertly dissed Gwen Stefani for being an "appropriation station", paid her punk-rock dues by touring for five years in obscurity with her band, and in this year's single Standing In The Way Of Control – a protest song about Bush's attitude to gay marriage – made the indie-disco floor-filler of the year. Even Noel Gallagher's a fan.

At times of transition such as this, voices that are traditionally marginalised get a chance to make themselves heard. Beth is the classic outsider of the type that makes rock'n'roll great, and that's why she rules this year's Cool List.
As a long-term Gossip fan, of course I think Beth deserves this accolade (leaving aside any comments about NME being rubbish). It is also great to see a woman top the list of coolest people of a magazine well-known for at best limited coverage of women in rock.
For more on ladies in the music industry, check out Wears the Trousers magazine.