It's been so busy over the last few days, there have been quite a few stories that have slipped through the net, so here's a quick round up of interesting stuff from the blogosphere and beyond…
Over at AlterNet, Robert Jensen argues that the left wing needs to look again at sexist and racist pornography.
When we criticize McDonald's for its unhealthy food, environmentally destructive business practices, and targeting of children through manipulative advertising, does anyone ask whether we are "anti-food"? Of course not, because no one conflates McDonald's with food; we recognize that there are many ways to prepare food, and it's appropriate to critique the more toxic varieties. The same holds for pornography; pursuing a healthy sexuality does not mean we have to support toxic pornography.
Meanwhile, Gloria Goodale from the Christian Science Monitor explores why society finds it so hard to accept that women are funny:
despite the fact that his ABC comedy employed numerous funny women, comic Drew Carey says the prejudices are real. It's not so much that women aren't funny, he explains, as that men don't want them to be funny. "Comedy is about aggression and confrontation and power," says the stand-up comic. "As a culture we just don't allow women to do all that stuff."
Speaking of talented women, it's only four weeks until the next Birds Eye View film festival, which features the work of female filmmakers. One of the more high-profile films being screened is SherryBaby, which stars my new favourite actor Maggie Gyllenhaal as a single mother who's just got out of jail. One harrowing thing happens to her after another, and when you think it can't get any worse, it does. But it's a brilliant film none-the-less.
And the Hathor Legacy has some great coverage of American TV, including rape on House and Veronica Mars. It also has this great post about whether or not boys like to read stories about girls. It turns out they do, as long as the girls are shooting arrows and wielding swords.
It's time to get your diaries out and see if you're free on 10 March, for FEM 07, which will be taking place at the Sheffield University Student Union. The most interesting segment looks to be a practical one: "How to……organise a Reclaim the Night march; set up a feminist group; organise a Ladyfest; and run an effective campaign"
Meanwhile, Bradley's Almanac has dug out a piece of what can only be described as sexist nostalgia.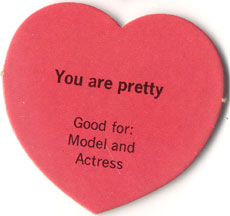 'What Shall I Be?' was a board game from the 1960s, for girls who aimed to be 'career women'. Except the only careers on offer are: teacher, actress, nurse, model, ballet dancer and air hostess.
The aim of the game seems to be collecting positive attributes to help you in your chosen career path… like, um, being pretty. But the equivalent of landing a card saying "go to jail, do not pass go", are a list of negative attributes.
My favourite is this: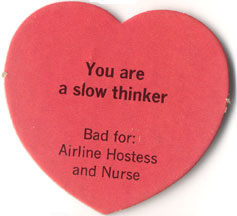 It's great that slow thinking will ruin your career as an air hostess, but won't be a problem in the classroom.
On a more serious note, it seems that Rudolph Giuliani gave a speech where he indicated he would appoint judges likely to overturn Roe v Wade. Up until now, one of the only appetizing things about the former New York mayor was his support for abortion rights. But with a possible presidential bid on the horizon, it seems he is pandering to the right wing of the Republican party.
Also from the other side of the pond, Harvard has named its first female president. Drew Gilpin Faust, a civil war historian, takes over the post once held by controversial academic Lawrence H. Summers, who said that women don't reach the top echelons of the scientific community because they aren't as smart as men.
Elsewhere in North America, the Breast Cancer Society of Canada has refused a $3,000 donation – because it was made by a group of strippers. The money came from a fundraising event, organised to honour a stripper who died of cancer.
Controversial blogger Chinabounder, a Westerner blogging about his sexual exploits in Shanghai, has put up a moving post about a case where a schoolteacher savagely beat and killed an 11 year old girl. He points out that his blog posts have prompted a storm of protest, whereas this girl's death has barely received any coverage. More from Shanghaiist.
Closer to home, one of the first women to join the London Stock Exchange has died by assisted suicide. The Independent reports that Elisabeth Rivers-Bulkeley travelled to Zurich to legally end her life after finding out she was terminally ill.
Demonstrating the same tough-mindedness as that which enabled her to breach a bastion of the male establishment 30 years ago, she arranged for her husband to be admitted to a residential care home a few weeks before her death.
A report out today reveals that discrimination on the grounds of gender, sexual orientation and race cost British business 320 million pounds in 2006, or 200,000 pounds every working hour.
There has been a 41% increase in the number of discrimination cases between 2005 and 2006. Even those employers who settled out of court racked up 25 million pounds in costs.
And while David Cameron might be worried about the political implications of his non-denial of smoking weed at school (although some of us are wondering what the fuss is about), he can take comfort in coming pretty near the top of the Observer Woman's list of the 50 men who really understand women.
In another stunning piece of female-oriented journalism from the magazine, many of the names on the list were fashion designers. George Clooney came first. Gordon Brown also won a mention, although several places below Cameron.
But while Cameron gains for his crowd-pleasingly family friendly image, Brown's entry had a bit more substance:
The Observer's political editor, Gaby Hinsliff, lists 'childcare tax credits, taking VAT off tampons, having more women ministers than any other department in the early years, and generally being a closet feminist even before he got married', as reasons for his inclusion on this list.
Photo by cha cha, shared under a Creative Commons license