Embroidery is, of course, one of those traditional "female arts". While it has a historic and rich tradition world over, these masterpieces were uncredited to the artists responsible – women.
We make money not art reviews an excellent exhibition, unfortunately in New York, about modern "extreme embroidery", which is now carried out by both men and women.
However, it is probably unsurprising that the themes chosen by artists working in this medium are of interest to us – for example, Andrea Dezsö's series of pieces, Lessons From My Mother. (It wasn't very good advice – see below!)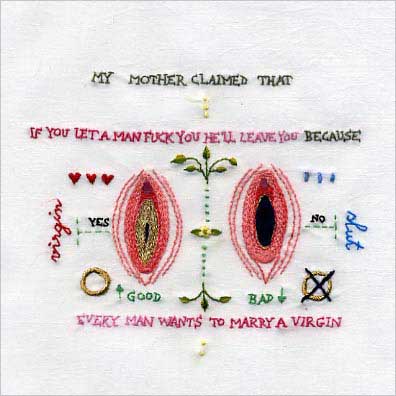 Indeed, most of the work seems to hinge on the contradiction between the "feminine" medium of embroidery, and the subject matter – whether that be the cell structure of viruses such as herpes and SARS, or a skeleton having its eye sockets violated.
More info here for lucky readers who can catch this exhibition in New York. Also check out this info on a previous exhibition called "Radical Lace & Subversive Knitting".