Better late than never I guess, but yesterday was Bisexual Pride Day!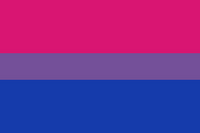 Feministing and Queers United have more.
Meanwhile:
PETA wrote to icecream makers Ben & Jerry, asking them to use (human) breast milk, because the dairy industry is cruel. Womanist Musing has the full, sorry story.
Also in breast milk news, Jezebel informs us that there's been a rise in wet nursing in China, following the baby formula scandal.
M.Dot, guest blogging at Racialicious, considers the double standard black women in the US are subjected to on sex, in "a culture that refuses to acknowledge that we are sexual, a culture that calls us hos if are so inclined to be sexual, talk about sex, or even look like we are human and have a sexual appetite".
Stoppyblog isn't shedding any tears for Ruth Kelly, who plans to resign from the Cabinet at the next reshuffle. As Stroppy points out, Kelly has been no friend of working mothers.
There's some interesting things going on here – particularly the reactions to Kelly saying she's going to "spend more time with her family", a phrase which is seen entirely as a ephemism when trotted out by male politicians.
Jack recounts meeting Bill Clinton.
Miriam at Feministing considers Ellen Degeneres' announcement she will be the new face of Covergirl, and the way that Rachel Maddow has been "girled" up now she has her own show.
Cara at the Curvature looks at a case where a judge barred a woman from having children as a condition of giving her probation