Quite a few interesting snippets today so bare with me.
Apologies if we covered this already but on the recent selling sex theme read this article by Julie Bindel. And yes it does make clear it's not claiming to be comprehensive but it does give some insight into the world of brothels in the UK at the moment.
Also today Women's Aid has warned it may need to close it's centres at Aberconwy and Colwyn as it can no longer raise grant monies to keep them going. Whilst the local refuges are safe these "bridging centres" which also advise women before a refuge is needed are in difficulties.
Latoya at Feministe has neatly encapsulated my anger on the issue of commenters telling me it's not a gender issue and men telling me their oppression under patriarchy is greater than mine (it's not a competition my friends, I'm not into comparing oppression-sizes).
I don't think there is any kind of shit that pisses me off more than "Is this really a feminist issue?"

We're writing. On a feminist site. About issues that affect and impact our readership. And issues that impact women. You might not personally see the direct impact but that does not mean it is not a feminist issue, nor does it mean that that issue will not impact women who call themselves feminists on a broad scale.

From Feministe
The Joseph Rowntree Foundation has released a research report on the media reporting of poverty which is chastening reading. Main points include
Coverage of poverty is peripheral in mainstream UK media. The causes of poverty and the consequences of poverty were rarely explored.
Non-news broadcasts rarely mentioned poverty, although they often featured those experiencing deprivation. Coverage tended to focus on extreme cases, highlighting the inherent 'failings' of undeserving people. Some documentaries explored the inequities of poverty and complex circumstances of those experiencing it, but reached limited audiences.
In news media, poverty in the developing world received as much coverage as poverty in the UK, but was reported differently. Depictions of extreme poverty outside the UK correspond with and may influence how the public perceive and define poverty.
Audiences tend to interpret representations of poverty and its causes in accordance with their beliefs and understandings. A key limitation of media coverage is the tendency to marginalise accounts which confront negative public attitudes.
The researchers conclude that if media coverage could challenge misperceptions of poverty in the UK, it could prove an effective means of generating public support for anti-poverty initiatives.
There is a practical guide for journalists available free from here.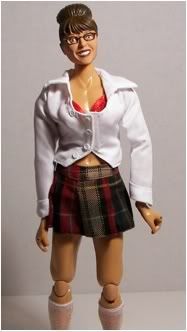 Sarah Palin (Vice Presidential running mate to John McCain for anyone who's been in a cave for the last two weeks) has had an action figure made of her which comes with a variety of outfits – business suit, Lara Croft style long coat and short shorts and, wait for it, Britney Spears style school girl. I kid you not. No really. Look there's the picture! As Feministing has pointed out, Hilary Clinton got nutcrackers, Sarah Palin gets saucy schoolgirl.
Meanwhile in the US it is National Chronic Illness Awareness Week apparently so a quick link to But You Don't Look Sick for that. As one of the millions with an unseen disability I'll raise a glass to better understanding of the fact that not all disabilities involve canes, sticks or other visual signs. On which note Lemon Aide has some tips for how to not make irate someone with a chronic illness by saying such crass things as "you look better"!
Whilst we're on issues of body the BBC has an article about facial disfigurement and public reaction to it highlighting the Changing Faces campaign.
Also from the US is suggestion that the US armed forces are listing women soldiers suspicious deaths as suicides (from Alter Net). Especially worrying as a disproportionate number are women of colour too (41 out of 99 female soldiers killed in Iraq).
And finally a couple of quick things from Birds Eye View Films, firstly for funny women BEV have teamed up with Skillset to provide development for up to 15 women in any area of comedy from radio to stand-up. It's called The Last Laugh and more info is on their website. Nominations close on 26th September so get applying! Secondly early bird entries for next years Birds Eye View film festival close on 19th September so again, get applying.